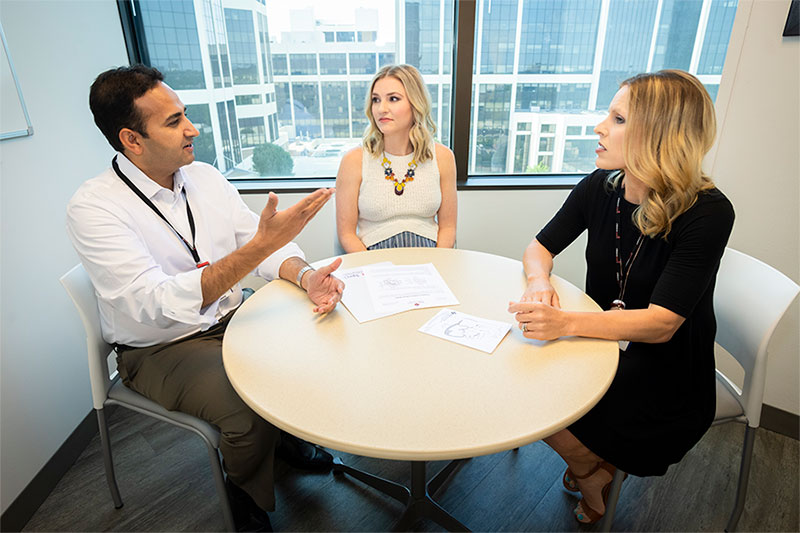 At Pediatric Heart Specialists (PHS), we know early detection of heart conditions can optimize your baby's care and delivery while giving them the best chance at a happy, healthy life. That's why our experts are specially trained in detecting, diagnosing and caring for the full spectrum of fetal heart conditions.
We bring together decades of expertise in fetal pediatric cardiology and advanced techniques to provide personalized, comprehensive care for you and your baby, from in utero to beyond birth. Working together with you, your obstetrician and perinatologist, PHS offers coordinated care and support through your care journey for both simple and complex heart conditions.
In addition, we recently teamed up with Children's Health℠ to offer you additional support after your baby is born. Ranked in pediatric cardiology and cardiothoracic surgery by U.S. News & World Report, Children's Health provides world-class pediatric cardiac care from the moment your baby is born. Supported by one of the nation's top programs in neonatology (NICU) and one of the largest dedicated pediatric cardiac intensive care unit (CICU), you can rest assured your baby will be in good hands at Children's Health.
We have extensive experience with all forms of complex congenital heart disease, including:
Hypoplastic left heart syndrome
Tetralogy of Fallot
Pulmonary valve atresia
Aortic stenosis
Transposition of the great arteries
Atrioventricular canal defect
Ventricular septal defect
Ebstein's anomaly of the tricuspid valve
Coarctation of the aorta
Many other forms of heart disease
We are also experts in heart rhythm disorders, such as:
Supraventricular tachycardia (SVT)
Congenital complete atrioventricular block
A fetal echocardiogram (or "echo") is a safe, noninvasive test of your unborn baby's heart. Our highly trained ultrasound sonographers specializing in fetal echocardiogram can see how the heart is developing and can determine if medical intervention is necessary.
Fetal echos are performed when:
Babies have a high risk of developing certain cardiac conditions from family history or being predisposed to conditions mom has
A routine pregnancy ultrasound detects an abnormal heart rhythm
After 18 weeks gestation, and occasionally sooner
We're equipped to perform fetal echocardiograms in all PHS locations across North and East Texas.
If your fetal echo reveals a heart condition in your unborn child, you will receive additional services, including:
Patient family education, support and resources
Comprehensive treatment options
Personalized care for all forms of complex congenital heart disease and heart rhythm disorders throughout pregnancy
Customized birthing plan at the hospital of your choice
Care coordination for you and your baby's unique needs
Access to the Fetal Heart Program at Children's Health for advanced pediatric cardiac care before, during and after birth
We value the relationships we form with our patients and their referring physicians. We close the loop on a patient's diagnostic reports and treatment plans, keeping you involved in your patient's care journey every step of the way.
Find out how to refer a patient
Our dedicated team of pediatric cardiologists, nurses and support staff works together to continuously pursue, discover and apply newfound knowledge to the most complex forms of heart conditions.
Get to know your PHS care team:
Physicians
Nurse Practitioners